Share your view for a greater perspective
See the Big Picture (StBP) is a collective piece of art, the work of many individual artists. Professional and hobby artists are working side by side on this huge piece. Together they send a message to the world for more cooperation between the nations. Each piece has its own message and raises its own questions, the special emphasis however is on the complete artwork: the Big Picture.
Are you an artist or photographer and would you like to join StBP? That is fantastic! Before we talk about you joining us, we would like to make you aware of the most important details. On this page we will give you a step by step run down of everything you need to know – we also prepared a FAQ and an explanatory video. If you still have questions or have already decided to join us, then contact us.
We are delighted to hear from you.

Get in touch: Tell us who you are and that you want to participate
Get creative: Paint a picture or take a photograph for the project
Ship your parcel: Send us your piece of art – at your own expense
We will present you and your painting/photograph on our website (www.see-the-big-picture.com/community). The information we need for this can be found in our FAQ.
The initiative organises exhibitions on a regular basis. We cannot show every single contribution at the same time but we will make sure that your artwork will be on display from time to time.
See the Big Picture encourages participating artists to connect with each other and to share news with friends of the project as well. For this we will create different possibilities for the community to exchange ideas and thoughts.
Measurements of the painting or photograph
All artworks

MUST

be completed to the dimensions given here to become part of the initiative.
Explanation: each piece must have these special measurements, because together they form the Big Picture which will be shown as a panorama at exhibitions; meaning it will be presented as a continuous piece of art. Two corners (see illustration) must be left free so that a creative blending can be made between the pieces. When the paintings arrive experienced artists here will make this blending possible. When you participate you agree to this procedure.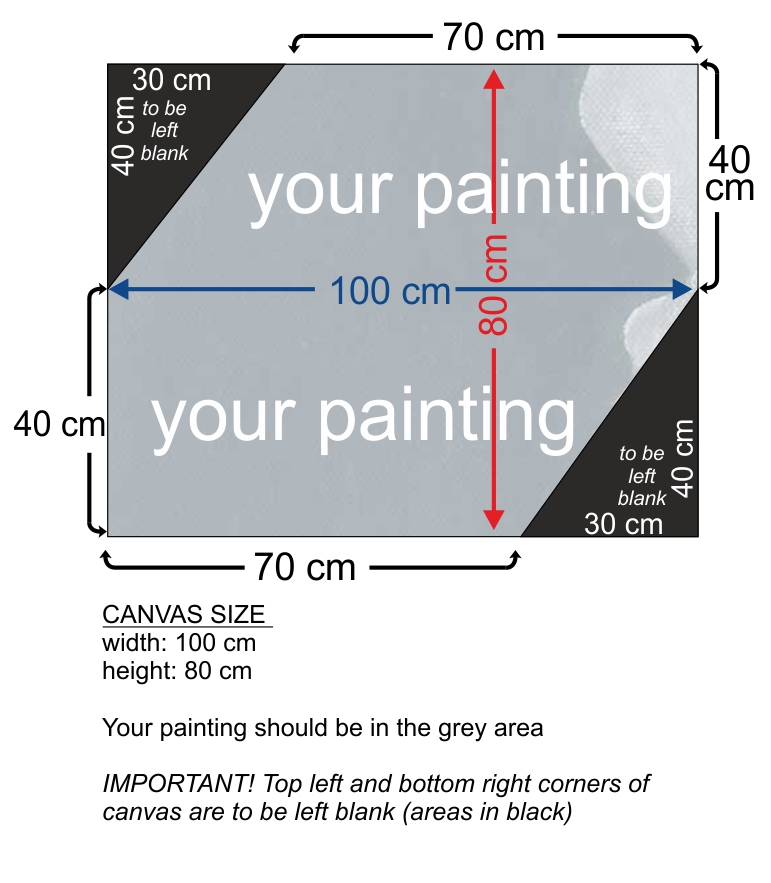 Subject of the painting or photograph
StBP unites individual points of view with a global perception. It is important for us to allow a huge diversity in art and society. Various and even conflicting points of view are welcome, we cannot however accept paintings or photos if they are not compatible with the values of the project. This includes pornographic depictions or agendas from political parties, ultra-fanatical religious groups or commercial advertising.  Otherwise participation and free choice of the subject are very welcome.
To summarise. Create a painting or take a photograph that connects the microcosm of your own life (experiences, perceptions, ideas or thoughts) with the macrocosm of a huge but related world experience.
Most frequent questions and answers
Principally yes. It is important for us to give everyone a chance to join. That is why we emphasize that professional artists and hobby artists are welcome. We will judge each painting or photograph separately and decide if they fit the project standards.
Yes, the participation itself is free. Other charges incurred, for example shipping costs or material costs, must be paid by the artist. This does not apply if an artist has no resources to cover those kinds of costs, we will then try our best to recuperate the costs.
No. There is no payment for the painting or the work incurred.
No. "See the Big Picture" is solely interested in finishing the project at some date in the future. Exhibition and sale opportunities outside the initiative are not available.
With the signature in the "terms and conditions" the artist gives the artwork to "See the Big Picture" on a permanent loan. The artwork however remains the property of the artist and cannot be sold at any time.
No. we need the original artwork. The reason being that we will exhibit internationally as much as possible and copies are not representative.
No, the plan for "See the Big Picture" makes it impossible to deviate from the required measurements. To present the piece – made up of many individual paintings – as a unit, it is necessary to leave the structural idea behind the project intact.  
On our website (www.see-the-big-picture.com) we will publish information about each participating artist. The information published will be exactly the information you send us; this means we publish only what you wish people to see. This information should make the public aware of who you are and exactly what you do as an artist.
We need the following information:
a biography (with regard to your artistic career)
the story to your painting
a portrait photo
Please be aware that this information may also be published by other organizations, e.g., coverage of the project by media outlets (print and online). By participating, you agree to this.
Before we can officially welcome you to "See the Big Picture", we need you to read and sign the form "terms and conditions" (see below). Then send the signed copy via mail to: contact@see-the-big-picture.com.
Perfect! Almost finished. Now you can send us your artwork.
Address for dispatch
Desmond Doyle
Art Mine
Rossmarkt 6
8793 Trofaiach
Austria